Which Disney Princess are you?
The amazingly strange stuff on the internet. Thanks,
Amy
.
Take the quiz:
"What Disney Princess Are You?"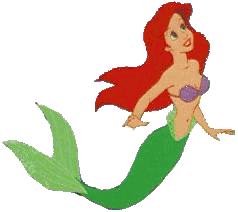 Ariel
You can swim, flip, dive and be one with fish...WHY DO YOU WANT MORE?
Hmmm.... I actually thought I would be Belle. I did get a couple of points in that direction. One of my co-workers actually calls me Belle because I've always got a book. And while I don't sing with sheep or dance on the fountain, I do like to walk and read.
So why Ariel? I think having a big family and red hair. I would be interested to know what my favorite color and the status of my virginity (or lack thereof) has to do with any of these characters.